La Nina Japan 2021 Winter
November 2020 update
Our initial observations and predictions are listed below for further reading. Basically, our initial observations seem correct. According to the JMA on 24 November, the purple areas (inc. Niigata Prefecture) below will receive normal to high falls, the blue areas a regular winter pattern and the white areas (inc. eastern Hokkaido) normal to low falls. Read below for further information.
Get your Nagano snow reports and weather updates for 20/21 season here!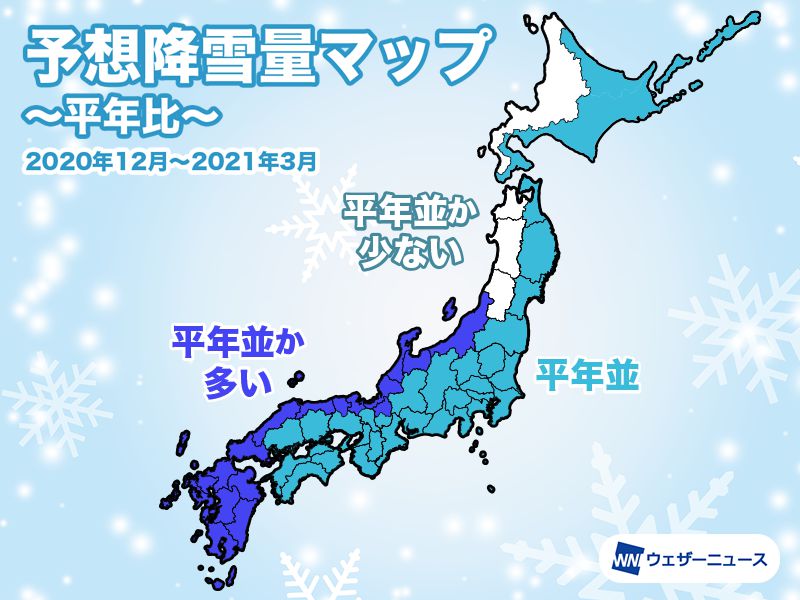 Some Observations for Nagano & Myoko
As the first snows fall on Mount Fuji for this season, it's time to crack out the crystal ball and see what the long term snow forecast could be for this 2021 season in Nagano and surrounding areas with La Nina Japan 2021!
Further reading: Nagano Snow Report and Weather Conditions | Nagano Webcams
La Nina Nagano 2021 Winter
According the JMB, La Niña conditions have officially developed and there is now a ~75% chance of weak La Niña conditions continuing through the winter months ahead in neighbouring Niigata and some parts of Nagano based on the latest forecast guidance. There are many other factors that are considered when developing a winter forecast, but this year the overwhelming majority of these considerations are pointing to the same pattern. As it's considered to be a 'weak' La Nina don't expect exceptional snow falls. However it should still ensure above-average conditions in Myoko Kogen and Hakuba but maybe not further inland, such as in Shiga Kogen. If we were to pick particular likely local winners we'd say Hiuchi Charmanti, Arai, Cupid Valley and Seaside Valley.
There's a correlation of sorts between La Nina & snowfall in some parts of Japan according to data between 1994/95 to 2015/16:
Myoko Kogen
Average 1487cm
La Nina: 1756cm
El Nino: 1308cm
Neutral: 1332cm
Yuzawa
Average 1369cm
La Nina: 1560cm
El Nino: 1121cm
Neutral: 1320cm
The worst La Nina years in this period came in around 1450cm. The best La Nina was 1876cm for Yuzawa, and 2324cm for Myoko Kogen. Both these ski resort areas lie either side of northern Nagano.
Japanese media are reporting that La Nina can cause abnormally heavy snow. Whilst not guaranteed there is a reasonable correlation. The emergence of La Niña Japan was also observed from December 2005 to February 2006, when around 150 people died as a result of heavy snow across Japan. Snows were also heavy in another recent occurrence of La Niña in 2011/12.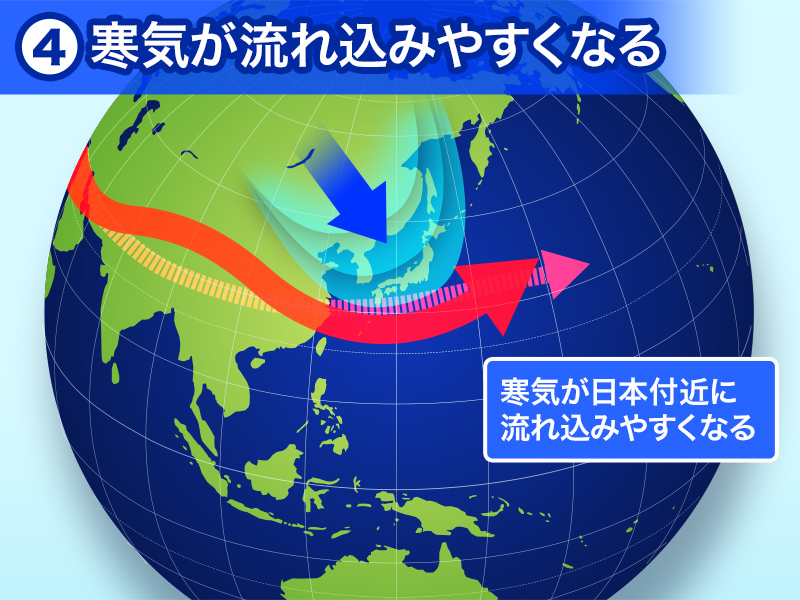 A great 2020/21 Nagano winter coming up we hope!
The Japan Meteorological Agency's expectation that the La Nina Japan winter 2020/21 may appear aligns with the U.S. National Oceanic and Atmospheric Administration which upgraded it's forecast to a ~75% chance of the phenomenon appearing during the upcoming Northern Hemisphere winter.
On 25 September JMA issued their forward weather forecast up to January 2021. Hokkaido is likely to be a little warmer than the average December whilst Niigata and Nagano prefectures are forecast for lower temps, which hopefully means December rain will very likely become early December snow.
This is the snowfall chart issued by JMA. Parts of Hokkaido and Tohoku are very likely to have lower than average snowfalls while Niigata and other more south-westerly areas near to the Japan Sea coast should receive higher than average falls. Those Nagano ski areas further inland therefore should receive average falls. But never mind, don't we all love those 'average' Japan snowfalls!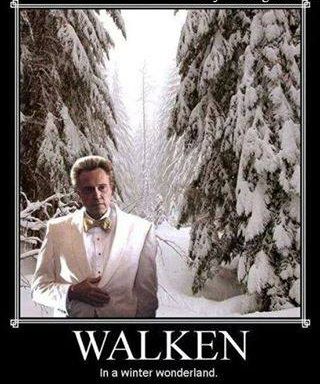 Book now to get the best La Niña Japan deals!
Can't find what you want? Send us a accommodation request or ask a question.
Note to other website owners. Whilst we know you and your guests/clients/visitors will be excited to read about La Niña Japan in 2020/21, if you choose to reference some or all of the above you must ensure that you include the acknowledgment to us. Thank you!