Japan Onsen Town information page
The Japan onsen town of Togura Kamiyamada Onsen is located in Chikuma City, a small city of 63,500 people in the countryside of Nagano Prefecture, just south of Nagano City. The Chikuma River, Japan's longest, meanders through the middle of the city and 1252 meter tall Mt. Kamuruki looks down from above. This is the mountain of the legendary Obasute Mountain story, where the elderly ('Oba') where taken and thrown away ('Sute'). On the flanks of Mt. Kamuriki is also the location of the unique Tagoto-no-Tsuki terraced rice paddies. When the moon ('Tsuki') rises, it reflects off each individual rice paddy ('Tagoto'). To the east of the Chikuma River valley is Mori 'Anzu-no-Sato', or Apricot Homeland. Located in between Mt. Kamuriki and the Chikuma River is the traditional hot spring town of Togura Kamiyamada Onsen where you can soak in soothing mineral waters at a traditional Japanese 'ryokan' inn. Togura Kamiyamada Onsen Town is blessed with the storied river and mountain and valley, and is central to the best Nagano has to offer. Come and make a new page in the story of your trip to Japan.

Find the best deal, compare prices & read what other travelers have to say about Japan onsen town hotels & ryokan in Togura-Kamiyamada Onsen, Nagano
Japan Onsen Town: Togura-Kamiyamada Onsen in Nagano
The Japan onsen town Togura Kamiyamada Onsen offers seven public baths and a couple of free ashi no yu (footbaths). These are all fed by the same hot spring sources that supply water to the local ryokan and hotels. Most of the public baths operate late into the night, charging from 250 to 650 yen per visit. Visitors to this Japan onsen town can enjoy strolling the streets in their yukata and geta (clogs) which are provided by most of the town's ryokan. The local night scene, very vibrant up until the bursting of Japan's bubble economy, has been on the decline. However the town's old-fashioned bar district, which was once mainly targeted at the many male clientele of past decades, survives to this day. In the evenings, neon lights gently illuminate several streets around the town centre, as multiple 'snack' bars, izakaya and karaoke lounges open for business. There are also a few shateki shooting galleries where tourists can try their luck hitting targets with cork guns. Put on your yukata and geta and go for a walk. Check out the Japan onsen town gourmet and walking guide for more details.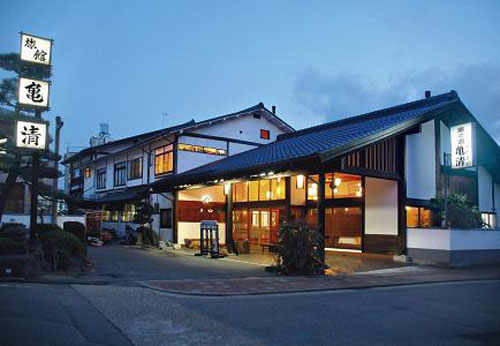 This Japan onsen town page is proudly sponsored by Kamesei Ryokan in Kamiyamada Onsen, Chikuma City. Kamesei is a traditional wooden onsen ryokan which is easily accessed from Nagano City  (read reviews). Kamesei is run by Tyler Lynch and his Japanese wife and mother-in-law. Tyler can arrange activities for his guests that would otherwise be difficult to participate in for foreign tourists, such as traditional workshops at the local tea, miso and textile shops or early-morning Zen meditation at a local temple. The town also distributes good English maps with restaurant listings and menus that make Togura Kamiyamada Onsen very accessible to foreign tourists. The most popular of these is the Geisha entertainment.
Geisha performances and packages:
Togura Kamiyamada Onsen has approximately 35 active geisha that continue to entertain visitors to the Japan onsen town. Their services can be arranged through your ryokan or via Tyler at Kamesei Ryokan. The geisha entertain with dance and music performances, drinking games and small talk in Japanese. They are usually hired in pairs for 2-hour periods for 18,000 yen per geisha.  They are typically called to liven up dinner banquets with lively, colorful conversation and warm hospitality.  By request, they can also perform songs and dances as well as engage the guests in parlor games. For performances, the 'tachikata'  (dancers) are accompanied by the 'jikata' (shamisen and taiko players).  Minimum of 2 (1 tachikata and 1 jikata) recommended for performances. For guests that can be flexible with their banquet times, geisha entertainment can be arranged for shorter time periods prior to their other engagements for a lower rate, typically a 30-40 minute period starting at 5:30-6:00pm for 10,000 yen per geisha. With this 30-minute show, the geisha will perform some songs such as the area's traditional love song Kamiyamada Ko-uta, teach the group how to dance to the 'Tanko-bushi' (Coal-Miner) or similar song and have the guests join in dancing around the room. Then the geisha will challenge everyone to Konpira Funafuna or other geisha parlor games, followed by time for pictures with the geisha.
For more details see the Japan geisha show flyer in (English) or a brief outline (in English)
As a separate activity visitors can try on a real-life geisha kimono with assistance by actual geisha. See here for more details.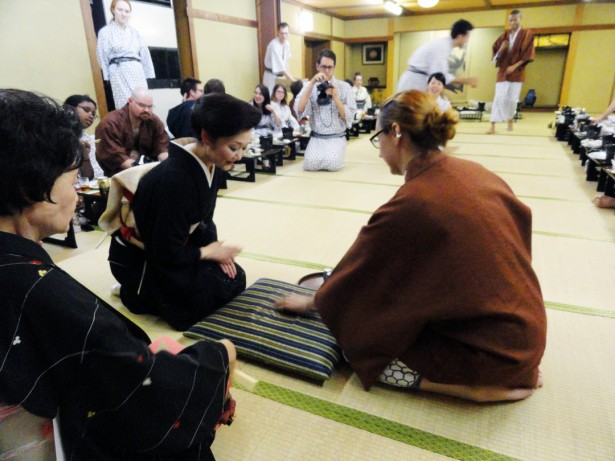 Obasute Mountain, Choraku-Ji Temple and "Ta-Goto-no-Tsuki" (Moon-Reflecting Terraced Rice Fields)
From practically anywhere in Chikuma City, you can look up and see the crown-shaped round top of Mt. Kamuriki.  The name literally means "crown" (kamuri) and "to wear" (ki), but it is the mountain's nickname that gets people's attention: Obasute Mountain.  Obasute has been the muse to many artists, from haiku poets and ukiyoe wood block print makers, to modern film makers such as in the 1983 "The Ballad of Narayama" which won the Cannes Film Festival Palme d'Or.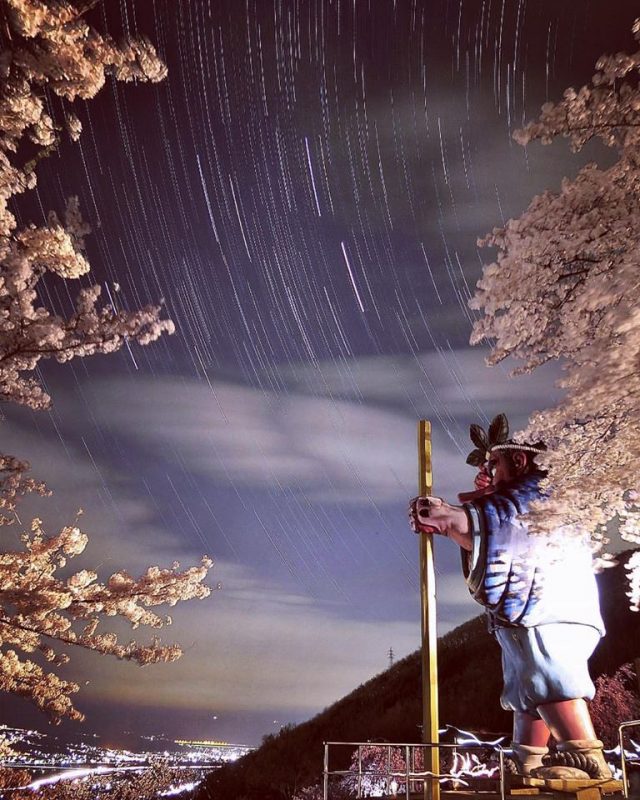 The best place to start exploring Obasute Mountain is from the train station of the same name:  the unmanned Obasute Station on the JR Shinonoi Line between Matsumoto and Nagano City.  In the station you will find displays related to the legend, as well as a haiku "post" to submit your poem about Obasute in 5-7-5.  The train station itself is unique in that it is set up on a switchback because the old steam engine trains couldn't make the steep Obasute grade without zig-zagging.  The station is also famous for the view at night of the lights of the Zenkoji Plain.
Also from the station you can see a series of terraced rice paddies that are positioned in such a way that the rising moon reflects in the individual fields.  There are areas with terraced rice paddies throughout Japan, but there is only one "Ta-Goto-no-Tsuki" (literally "Moon in Each Field").  It is approximately a 150 metres to walk from the station will take you to Choraku-Ji Temple.  Here you will find a great view rice fields as well as the thatched-roof moon viewing pavilion where the renowned poet Bassho was inspired to write some of his haiku.  Towering above Choraku-ji is a massive stone, "Oba-Iwa".  Its desolate top provides an impressive view of the Chikuma River below, and, depending on who you ask, was the spot where the old people were thrown away.
Obasute Mountain Legend (これは別枠)
A long, long time ago, there was not enough food to eat, causing the local lord to order everyone over 70 years old to be taken to the top of the mountain and left to die.  One son tried carrying his elderly mother up, but along the way realized she was snapping branches on trees to mark his way back down.  He was touched by her kindness, and couldn't bring himself to throw her away.  Meanwhile, the neighboring lord came and threatened to invade if the people couldn't answer his riddle.  Thanks to the elderly lady's wisdom, the locals answered the riddle and saved their land.  They then realized how valuable the elderly were and did away with the Obasute rule.
Togura Onsen Live Web Cam – Courtesy of Nagano RIS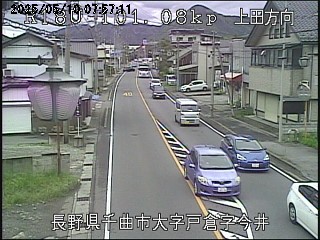 For other local Nagano webcams click here
Onsen Town Japan summer festival video
Togura-Kamiyamada Onsen Matsuri
Togura Onsen, Kamiyamada Onsen, Nagano, Japan: Tourism, Hotel & Sightseeing Map
View Togura Onsen, Kamiyamada Onsen, Chikuma in a larger map
Descriptor: Traditional Japan Onsen Town in Nagano. Hot Springs Town Japan, Geisha Show, Apricot blossoms and Festivals in Togura Kamiymada Onsen. Find maps, directions and hotels.